2020 Biennial Report to Congress on the Effectiveness of Grant Programs Under the Violence Against Women Act

In response to the reporting requirements of VAWA 2000, every two years, VAWA MEI and OVW compiles and presents aggregate qualitative and quantitative data submitted by grantees demonstrating the effectiveness of VAWA funding nationwide. These reports represent 2 years of collective efforts to respond to domestic/sexual violence across the nation. In addition, these reports include recent and relevant research from the field on the scope and burden of violence, emerging and evidence-based practices and policies for addressing violence, and highlights evolving and ongoing challenges.
read the full report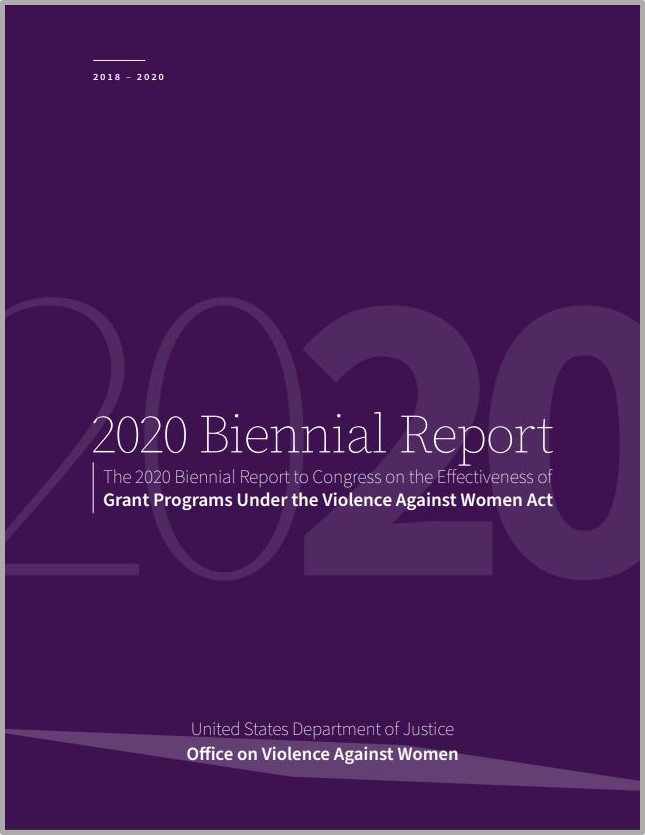 "

There was a clear need for training and technical assistance, as well as the development of written 'how-to' resources for the field that focus on operational tools that advocates and supervision officers can use to collaborate more efficiently with a common goal of reducing victimization. The e-curriculum developed under this effort will help probation staff to increase their awareness, understanding, and  practical application of victim-centered approaches to the specialized supervision of sex offenders. Topics covered include defining victim-centeredness as a fundamental tenet of sex offender management, key principles and  practices of specialized sex offender supervision, various points at which probation officers' decisions and practices have implications for victims and their families, the role of victim advocates in promoting victim-centered  supervision practices with sex offenders, and promising examples of victimcenteredness in practice.
Sign Up for Email Updates
Be the first to hear about upcoming training offerings, updates from OVW, and report releases from VAWA MEI!